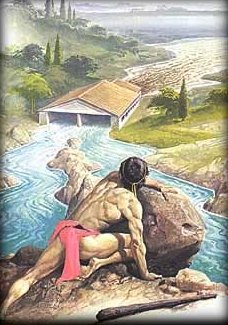 The fifth labor was to clean out the Augean Stables in one day. This labor was supposed to be humiliating for Hercules.
King Augeas owned a massive stable which contained 1,000 immortal cattle. This stable had not been cleaned out in 30 years.
When Hercules arrived he told King Augeas that he would clean it in one day but in return he would receive a tenth of the cattle, he accepted thinking it was impossible.
The next day Hercules brought King Augeas' son to watch him clean it. He started of by rerouting the rivers Alpheus and Peneus and he then let he water do the rest of the work.
But when King Augeas found out that it was King Eurystheus' doing of him coming he said that he wouldn't pay him. Hercules said that he would take the case to a judge and let him decide. The judge decided to make King Augeas pay Hercules.
Unfortunatley, King Eurystheus found out he was paid and he said that task did not count towards the ten labours
Ad blocker interference detected!
Wikia is a free-to-use site that makes money from advertising. We have a modified experience for viewers using ad blockers

Wikia is not accessible if you've made further modifications. Remove the custom ad blocker rule(s) and the page will load as expected.